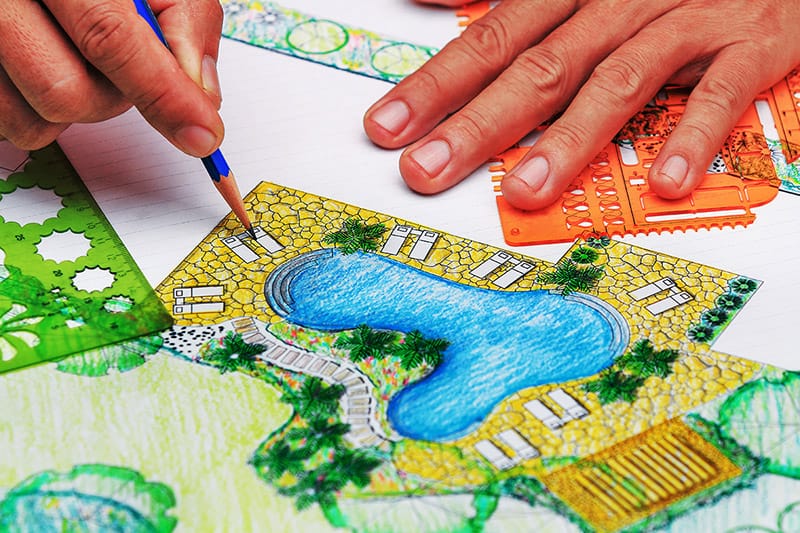 Landscape Design
A successful landscape design should be a living work of art!  There should exist a balance where the architecture and landscape environments subsist in harmony and balance offering everyone a stunning space in which to live, work, visit, and play. As with an outstanding piece of sculpture or a painting, a landscape should engage the senses, stimulate the imagination, be inspirational, and be something of lasting and unique beauty and healing to the human race.
A landscape needs to complement its surroundings both its regional climate as well as those who will use the environmental space in reflecting the interests, needs and sensibilities of the tenants, customers or residents. And because a landscape is comprised of both living plants and permanent elements, it must be designed with future growth in mind.
At Evergreen Design Group, we combine the science of growing with the art of design. From start to finish, we keep in mind the personality of the client, the style of the architecture, the regional climates, and the expected use of the outdoor space. We create real-world landscapes of living, lasting beauty that reflect the individuality of our client as well as those who will utilize the space.
Beyond Sustainability
Sustainable landscaping includes an attractive environment that is in balance with the climate in which it exists and requires minimal resource inputs, such as fertilizer, pesticides, and water. Sustainable landscaping begins with an appropriate design and plant selection that creates a functional, cost efficient, visually pleasing, environmental friendly environment with reduced maintenance required.
Millions of dollars are spent each year designing, implementing, and maintaining urban landscapes. However, long-term problems occur when these processes are not carried out properly. Many problems can be avoided or reduced by utilizing sustainable landscape practices. A landscape developed with sustainable practices will improve the environment by conserving resources and reducing chemical applications. A sustainable landscape will also reduce labor inputs making it less expensive to implement and maintain.
LEED
Evergreen Design Group is a leader in designing sustainable landscape solutions. We believe landscapes should be beautiful and functional while respecting the surrounding environment. We have extensive experience with sustainable landscaping design, and many of our projects have achieved LEED certification.